Top 10 Best Malls in Birmingham … Your Full Guide 2023
Birmingham has some of the top shopping malls in the UK, with a diverse selection of stores, restaurants, and entertainment opportunities. Birmingham, as a major city in the West Midlands, attracts millions of shoppers each year who are looking for excellent prices and an entertaining shopping experience.
Malls in Birmingham offer amenities to meet all interests and budgets, ranging from enormous multi-story complexes to more modest arcades. Whether you're looking for high-end designer goods, massive department stores, or quirky independent enterprises, one of Birmingham's fantastic malls is bound to have them.
Best Malls in Birmingham
1.
The Bullring is one of the most recognizable shopping centers in the United Kingdom. It attracts over 36 million visitors per year and is located right in the heart of Birmingham's city center! The new Bullring opened in 2003 after a substantial refurbishment, with over 140 stores and eateries split across three floors.
The nearby Grand Central Mall opened in 2015, connecting New Street Station to the Bullring in a stunning new retail complex. They collectively have nearly 250 stores, including the sole Selfridges store outside of London. From high-street favorites like Zara and H&M to luxury names like Louis Vuitton and Hugo Boss, Bullring and Grand Central have it all.
With their distinctive architecture and superb shopping, it's no surprise that Bullring & Grand Central are at the top of our list.
2.
The Mailbox, located among Birmingham's famous canals, is one of the city's most distinctive shopping malls. The former Royal Mail sorting facility in Birmingham has been turned into a modern shopping attraction.
There are over 80 boutiques spread across three floors within its unique curving design. The Mailbox provides a refined retail experience with boutique fashion and accessories, jewelry, homewares, and gifts. Harvey Nichols, Hugo Boss, Emporio Armani, and All Saints are among the well-known stores.
You may also visit the Ikon Gallery to see the latest art, watch a movie at Everyman Cinema, or relax with a drink by the quiet canal. The Mailbox, with its upscale environment, is ideal for a smart shopping trip.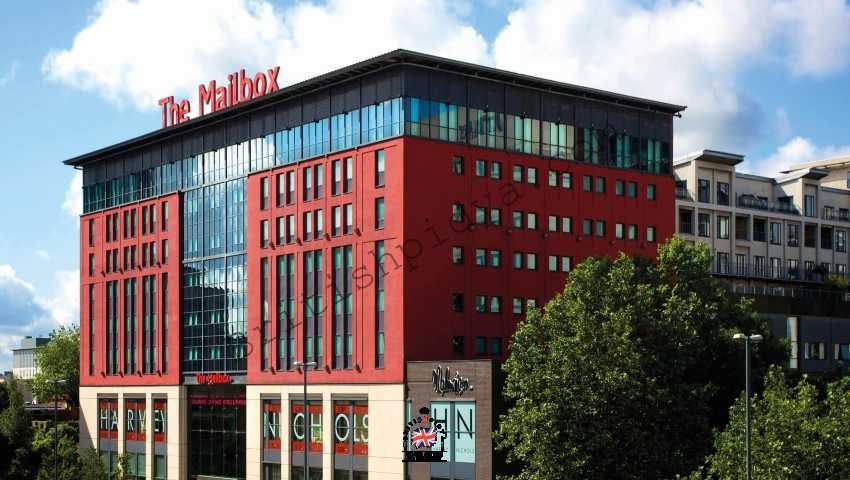 3.
Resorts World Birmingham, which is connected to Birmingham's NEC arena and airport, offers over 80 shops as well as recreational activities such as a cinema, casino, and spa. It provides a wide range of options and convenience, from high-street brands to outlet discount shopping.
Debenhams shares space with well-known brands like Superdry, Kurt Geiger, and Gap. Explore Gucci Kids for premium children'swear before heading to Ted Baker London for a new wardrobe for yourself. You might easily spend an entire day here shopping, seeing a movie, playing mini golf, or relaxing at the Genting Hotel's luxury spa.
A visit to Resorts World Birmingham is a must, with so much shopping and entertainment under one roof.
4.
The Arcadian, located in Birmingham's China Town, offers an eclectic mix of over 50 independent retailers spread across three levels. The Grade II listed structure, which was once the historic Garrison Public House, today houses eccentric boutiques, jewelry stores, and cozy cafes.
Stroll through the fanciful interior, and you'll find boutiques selling unique retro toys, music, comics, and apparel. Stop in Damascena for afternoon tea, Cocochan for artisanal chocolates, and Eighth and Ninth for handcrafted jewelry.
The Arcadian, with its antique air and one-of-a-kind businesses, is an excellent spot to discover hidden Birmingham treasures. When you need a break from shopping, don't forget to enjoy the cocktails at Ed's Easy Diner!
5.
Touchwood retail mall, located in the affluent town of Solihull, is a short drive from Birmingham and offers a sophisticated outdoor shopping experience. It is one of the largest retail parks in the UK, with over 150 stores.
Together with large retailers such as John Lewis, House of Fraser, and Apple, there are boutiques, jewelry stores, event spaces, and a variety of cafes and restaurants. Department stores coexist with prominent high-street companies, allowing you to stock up on necessities while also treating yourself to something unique.
Outdoor playgrounds and interactive water fountains will also be popular with children. Touchwood Solihull is a pleasant destination to shop, dine, and relax for a few hours, thanks to its large assortment of retailers and open-air plazas.
6. The Fort Shopping Park
The Fort Retail Park, just a short drive from Birmingham's city center, offers over 40 stores in an open retail park setting. It has a mix of famous high street labels and outlet cheap businesses for everything from fashion to homewares.
You can shop major labels such as Marks & Spencer, Sainsbury's, Next, and TKMaxx before hitting the sales at Nike, Adidas, Gap, and Clarks. The shops are scattered out among landscaped pathways, fountains, and fort-themed architecture in this one-of-a-kind location.
The Fort Shopping Park is worth a visit for everyday deals, with big name businesses at outlet rates conveniently accessible to Birmingham.
7. Brindleyplace
Brindleyplace, located around Birmingham's scenic canal network, offers an unusual mix of independent stores and major high street brands. With over 30 businesses, you could easily spend an afternoon or morning perusing before stopping for a drink by the shore.
Cath Kidston sells presents, Cos and L'Occitane sell women's fashion, and the Ikon Gallery shop sells British art. There are also major brands including Superdry, Calvin Klein, and Karen Millen.
Brindleyplace is a terrific area for open-air shopping in the heart of Birmingham, with its waterside charm and large assortment of retailers.
8. Great Western Arcade
A visit to the Great Western Arcade transports you to the Victorian era. This Grade II listed shopping arcade, built in 1876, has some of Birmingham's oldest establishments and features exquisite architecture.
You'll come across jewelry stores, booksellers, cafes, designer boutiques, and antique stores as you go down the pedestrianized boulevard. Lost in the Garden sells bespoke fragrances, Swordfish Records sells records, and C.W. Sellors sells jewels. Mr Mulligans, an independent cafe, serves afternoon tea, while The Distillery serves locally created craft brews.
Great Western Arcade, with its own ambiance and independent boutiques, provides a shopping experience unlike any other in Birmingham.
9. Corporation Street
Corporation Street, located in the heart of Birmingham, is one of the city's most historic and busiest shopping streets. It is near to the Bullring and contains around 40 stores as well as Victorian architecture.
Debenhams, Birmingham's top department store, is a must-see before high-street companies like Foot Locker, Schuh, and Flying Tiger Denmark. There are also individual stores featuring local designers and eccentric gift shops.
Before returning to the hustle and bustle of the Bullring, stop for lunch at a streetside cafe. Corporation Street is unrivaled for quick shopping in the city center.
10. Merry Hill Shopping Centre
Merry Hill Shopping Centre, located in Brierley Hill, is a 30-minute drive from Birmingham and features over 250 retailers in a big indoor shopping complex. It houses a wide range of shops, from large brands to independent boutiques, all conveniently under one roof.
Department stores such as Marks & Spencer, Debenhams, and Primark are there, as are well-known fashion businesses such as Zara, River Island, and Topshop. A big food court, 12-screen cinema, bowling alley, and children's play area are also highlights.
Merry Hill Shopping Center is a great place for a comprehensive family day out, with so many stores, leisure options, and free parking.
Conclusion
Birmingham, with its outstanding malls and shopping districts, provides some of the best retail experiences in the Country. You'll find everything you're looking for amid the city's unique mix of independent boutiques and national businesses.
Make sure your credit card is ready for a full day of shopping in this retail mecca, from Bullring's fashionable labels to Great Western Arcade's quirky antique shops. You might just find your new favorite store!
Where is the best place for luxury brand shopping in Birmingham?
For luxury and designer shopping, head to the Mailbox, Bullring, or Grand Central. Retailers like Harvey Nichols, Selfridges, Louis Vuitton, and Hugo Boss can be found at these upmarket malls.
Where can I find independent and unique stores in Birmingham?
The Arcadian and Great Western Arcades offer brilliant independent shops selling items you won't find on the high street.
What is the best mall for bargains and discounts in Birmingham?
The Fort Shopping Park has several outlet stores from top brands where you can bag some great discounts. Resorts World Birmingham is also good for outlet shopping.
What's the best mall for shopping and entertainment?
Resorts World Birmingham combines shopping with restaurants, cinemas, casinos, and other entertainment all under one roof. Great for a full family day out.
Where can I go designer or high end fashion shopping?
Head to the Mailbox or Grand Central Birmingham, where you'll find designer stores like Emporio Armani, Ted Baker, Calvin Klein, and more. Harvey Nichols is great for luxury fashion.
Which mall is best for high street and major brands?
Bullring and Grand Central have over 140 mainstream stores. Other malls, like Merry Hill, Resorts World, and Touchwood Solihull, also house all the major retail brands.
Where is the best place for independent cafes and unique dining?
The Arcadian, Great Western Arcade, and Brindleyplace have lots of quirky independent eateries and cafes alongside their shops.
Public transit is a significant component of life in Birmingham, England. It provides a means of getting around the city and connecting with others. The city provides a range of public transportation choices, including buses, trolleys, Taxis, and trains.
With his famous comment, "I've heard really nasty, bad bad things about you Birmingham people," Alfie Solomns (the character from Peaky Blinders) didn't appear to like Birmingham as much as we do!